When it comes to fashion, women are always looking for two things: the next big thing and the perfect way to extend the life of their wardrobe. We are now here to introduce you to Sleeve-Ons where you will find the answer to both of those fashion needs in one simple creation.
Listen to what satisfied customers are saying about Sleeve-Ons:
Sleeve-ons…..what a wonderful addition to any wardrobe! The versatility is great as Sleeve-ons can be worn over or under sleeveless garments, adding a new look to my existing items of clothing. Sleeve-ons are terrific for those cooler summer evenings & because they come in a lovely little drawstring bag I can pop them into my handbag any time I'm out! I can change the look of my strapless outfits just by adding Sleeve-ons. My wardrobe now goes further regardless of the season!"
The beauty of Sleeve-Ons is simple, it provides you with a stylish option that will transform your look from day to evening or from sleeveless to office ready in one simple motion. Take for example the Caroline featured here: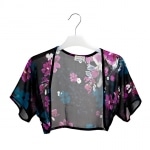 The black embellished tank is a great option to wear with a black slack or a denim trouser, but is less than appropriate office attire. When you add the Caroline to the embellished top then not only are you ready to hit the office or your formal dinner in style, but you have also totally transformed your look by adding a pop of color and a touch of flair.
When styling Sleeve-Ons, you have two separate options to choose from. Sleeve-Ons is made as a bolero style jacket that can be added on top of a sleeveless top so that it resembles a shrug or a jacket. It can also be added under your sleeveless top so that now you have now transformed your sleeveless top into a new option that is perfect for any occasion. Sleeve-Ons are available in short sleeve, long sleeve and ¾ sleeve as well as a variety of styles and colors that are perfect for transforming any look into a versatile style option that is ready to shine in any season.
This season, take any top from sleeveless to Sleeve-Ons and show the world that you are ahead of the fashion curve.